Annapolis Division receives no outside funding and drills cost our Unit a minimum of $300 every weekend. Normal costs include $200 for building rent, which Navy MWR is unable to give us a discount.
PayPal takes a 7% cut of all payments made. Please feel free to add a little extra to help cover this cost.
If you'd like to pay by check, please reach out to the Commanding Officer.
Shopping cart will appear at the bottom
DONATE
$25.00
Help Support Annapolis Division. For other amounts use the donate button on the right of the page.
THANK YOU
DONATE
Help Support Annapolis Division.
THANK YOU
RE-ENROLLMENT
$150.00
Re-Enroll Today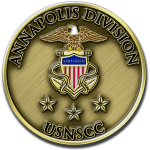 ENROLLMENT
$250 Registration fee
$150 Uniform deposit (Refunded when all uniforms are returned (clean))